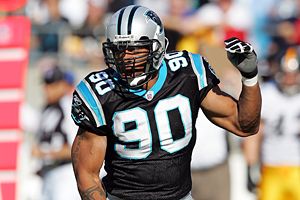 By PFC Writer Brian Wyant
Well the day has finally arrived and The Carolina Panthers can end their relationship with an average defensive end who thinks he's great.  Julius Peppers must imagine he is a legend in his own mind, a legend in the making, going from (in his agents words) from Great to an Icon.  Are you kidding me?  Peppers great?  he hasn't even hit the status of above average or above just plain good yet.
He says he needs to move on so that he can "reach his potential".  I hate to say it Julius, but my friend we have seen your "potential" here for the past 5 years and it aint so good my brother.  I mean come on Pep man, 2 1/2 sacks last year and being easily blocked over and over again by one tackle, typically in many games either a rookie or a back up tackle all this year.
I have made a point of studying Peppers this year just to see for myself what he was all about and my conclusion after 17 games this year, he's a decent player who takes plays off and plays to avoid injury.  he has many times looked like a gymnast jumping and running out of the way of runners as they run by him and he simply is doing his best to not get his feet stepped on.
Reportedly Peppers was offered a long term deal worth close to $13.0 Mil. per year earlier in the year, which would have made him the highest paid player in the league. It is truly a blessing that he didn't sign the deal!  Placing a team hostage for one "Average" guy is crazy.  Do you think Belacheck would do this?  I say, no way.
Pep, hey listen up you are an "OK" player you have an extremely rare physique and athleticism for a big man but you don't know how or want to use if for football.  Compared to Freeney, Harrison, Tuck and Allen, well if they are all 10's Julius is about a 5 I'm not bashing him I'm just stating the facts here.  Compare the heart, and passion and there is no contest here.
Here is a guy who said after the super bowl of 2003-04 he was more excited about making it to the final four with The Carolina Tarheel's than being in the super bowl, are you kidding me, and he thinks he's a great player?
Great player, no, good player OK potential?  As long as his heart is where it is he will never be a great player and I for one doubt if he will ever change.
It's good riddance to Peppers and we are many strong in this sentiment, hey maybe we wont get a player of his athletic ability but give me a guy with heart, passion and a killer instinct I can go to war with and I'll take him over Peppers 100 out of 100 times.
The team can now move on Pepperless, and learn from this experiment, new attitudes, players with heart and a passion for the game.  IE:  Ray Lewis, Troy Polamalu, John Beason, Chris Harris, Ed Reed,  Harrison.
the last time I wrote about emulating winners and champions we get to learn from the best in two weeks in Tampa.  Coach Fox, Marty Hurney, Mr. Richardson and Mark please watch and learn.
I would say 2 trips to the Super Bowl in the past 4 years makes a case for The Carolina Panthers to mirror at least some of what these Steelers are all about in their off season player personnel decisions.