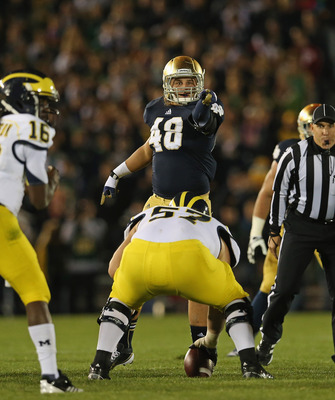 Last year's most notable and controversial linebacker has departed Notre Dame for the National Football League, leaving behind a void that many believe cannot be filled by senior linebackers Dan Fox and Carlo Calabreese. However, that is not the case.
Dan Fox, who will more than likely be the player asked to step in directly to Te'o's role, recorded 63 tackles last season in a roll that saw him rotating with Calabreese for the other ILB spot complimentary to Te'o; that was good enough for fourth on the team. However, the bulk of Fox's responsibility on the field was occupying gaps and blowing up pulling guards to free up the Samoan sensation for tackles. The selfless Fox should see the fruits of his labor this year, as he will be more readily freed up to make tackles, rather than occupying space for others.
The loss of Zeke Motta at safety will also see the Notre Dame linebackers without a zone-blitz option as often as last year, as slot receivers will need to be knocked off route to compensate for the blow to their secondary until proven otherwise; which may prove to be extremely difficult considering the dynamic offenses Notre Dame will face this year such as Purdue, USC, Michigan, Oklahoma, and even Stanford.
There is most certainly cause for worry in South Bend; however, much of it should not lie with replacing Te'o, as there are two seasoned seniors willing to fill that void. The worry will end up being the loss of several key role players. Those losses will be addressed in further detail on my official season preview of the Notre Dame Fighting Irish.
@tomfoolery713