By PFC Draft Writer Andrew Kinsman @PFCAndrewK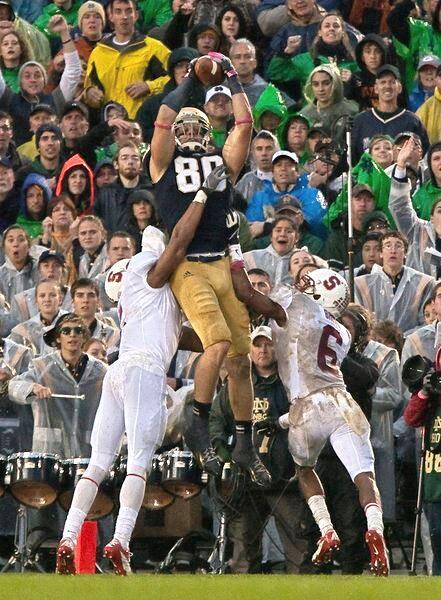 Photo courtesy of Tyler Eifert's Twitter account: @EiferTy80
Following a prolifically productive career at Notre Dame, Tyler Eifert was the recipient of the 2012 Mackey Award for the best tight end in the nation. He is expected to be the first tight end taken in this year's draft.
College Career
After only playing in one game as a freshman in 2009 due to a back injury, Eifert began 2010 as back-up to Kyle Rudolph (drafted in 2nd round by Vikings in 2011), However, after Rudolph went down with a season-ending injury, Eifert took over and made a real impact as starter. He went on to establish himself as one of the best TEs in college football with 63 receptions for 803 yards and 5 TDs in 2011 and then 50 catches for 685 yards and 4 TDs last season. The slight drop in numbers can be excused by the fact that not only were the Fighting Irish fielding a freshman QB in 2012, but also Eifert was their main receiving threat and often had to contend with double coverage. 'This isn't about numbers this year,' said Notre Dame coach Brian Kelly in November. 'This is about a guy that's developing himself as a complete tight end.'
Having amassed career figures of 140 receptions for 1,840 yards and 11 TDs, the 22-year-old Eifert not surprisingly decided to forego his final season of eligibility and enter the 2013 draft.
Draft Preparation
Eifert was highly impressive at the NFL Scouting Combine, recording a 4.68 40-time and 22 reps on the bench press, along with outstanding results in the other measured jumps and drills. 'I think with the tight ends, the day has belonged to Tyler Eifert,' was the reaction of NFL Network's Mike Mayock.
At the Notre Dame pro day Eifert performed well in the blocking drills and caught the ball very well. One NFL source said that he 'ran like he was floating in air.'
Strengths
Eifert was consistently productive throughout his college career, catching at least one ball in all but one of his last 33 starts.
He is an extremely hard worker who did everything to improve his all-round game last season. Here is NFL Network's Mike Mayock's analysis. 'It was a combination of two things. One, opposing defenses knew what a good pass receiver he was and they did everything in their game plans to take him away. Putting a ton of people on him. On tape, teams were doubling him, combo, all kinds of bracket coverage. To the kid's credit, he took his blocking to a completely different level. Whether he was in-line or in motion, I thought that was the biggest difference in his game.'
Weaknesses
Eifert has had a few injury issues. He suffered a season-ending back injury that required spinal fusion surgery in 2009, while a tendon injury in his left shoulder cost him two games in 2010. Last season he suffered a 'mild' concussion during the Purdue game.
Despite great overall production, Eifert never actually managed to record a 100-yard game during his time at South Bend.
Tools
At 6'5" and 250lbs, Eifert has a prototype TE physique and provides great mismatch opportunities (last season he drew any number of pass interference calls from overmatched DBs).
Intangibles/Character
Eifert has no known character concerns. He shows tremendous toughness going across the middle and taking hits, and coach Brian Kelly was full of praise for his work ethic coming into the 2012 season: 'Here's what I love about Tyler Eifert. You know you're moving your program along when your best players are your best workers… He's just been incredible to work with over the past couple of years, to see his development and his maturity. He's a leader on our football team.'
Eifert is also a player who steps up in the clutch, as shown in the 2011 game against Pitt, in which he caught four passes (including the TD) on the game-winning drive and followed up with a 2-point conversion catch:


Versatility
An archetype all-round tight end, Eifert can be used highly effectively not only in-line, but also as an H-Back, out wide or in the slot.
Release and Route-Running
Eifert has the strength and moves to be able to achieve a quick release off the line. He is a long-striding runner who is a real threat down the seam. However, he does lack the burst to achieve much separation, which is why he often ends up in hand-to-hand fights for the ball.
Catching Ability
With 33 1/8" arm length, Eifert has a very large catching radius and has the agility and body control to make difficult adjustments to come down with the ball, as in this amazing play against Boston College in 2011:


Although his 9 1/8" hands are on the small side, this does not seem to have affected his reliability catching the ball, as he is outstanding at pulling in contested balls. STATS Inc. recorded him as not having dropped a single pass from 73 targets in the regular season.
Run after the Catch
Although he is certainly not a burner, Eifert is tough to bring down after the catch.
Blocking Ability
Eifert is a willing blocker who showed much improved technique last season both in-line and downfield. Although he could still stand to improve as a blocker, he is still much better in this area than some of his main draft rivals:  Zach Ertz, Vance McDonald, Gavin Escobar and Jordan Reed.
In his Combine interview Eifert stressed that improving his blocking was one of his priorities: 'Blocking has been what everyone said I was lacking, so I've spent a lot of time working on my blocking with coaches, working on the technique things. The little things like footwork and hand placement. It's the little things that make a big difference.'
Draft Projection
The Fighting Irish have a great recent tradition for tight ends, having sent three to the NFL in the 2nd round of the draft in recent years: Anthony Fasano (2006), John Carlson (2008) and Kyle Rudolph (2011). Eifert is a better prospect than each of those players and is a lock for the 1st round this year (having received a 3rd round grade from the NFL Advisory Committee for last year's draft).
In the very worst case scenario the Falcons would surely snap up Eifert with the No.30 overall pick as Tony Gonzalez's eventual replacement. However, I don't anticipate that Eifert will fall out of the top 20 picks. He is certainly in play for the Bucs at No.13 and is also a potential fit for the Browns in a trade-down scenario.
Video
There are a whole bunch of Eifert's performances available as video cut-ups at draftbreakdown.com, including these four from 2012:
Purdue

Stanford

BYU

Alabama (National Championship game)

2012 Highlights:

Excellent Draft Profile:


Other scouting reports in this tight end series:
Best of the Rest and Final Rankings
All comments/feedback welcome via Twitter @PFCAndrewK