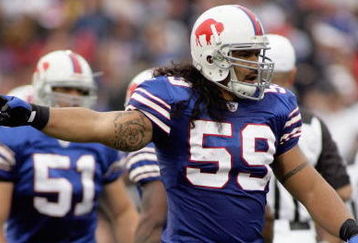 By PFC Bills Writer Jay Kommuru
The Cleveland Browns are in town this week looking for their first win and what better team to face right now than the Buffalo Bills. Honestly, can you think of a team that is playing worse right now than the Bills? That is not to say that the players are not giving effort on the field. But right now, in terms of team execution, the Bills are dead-last in the NFL in my humble opinion. Sure they almost beat the Patriots opening night, and took care of the Bucaneers, and kept Drew Brees in check. But last week, they had the perfect matchup against then winless Miami Dolphins who had a new QB at the helm starting in his first NFL game and without their best defensive player – Joey Porter. Of course we all know the result of that game, a 38-10 whupping put on by the Dolphins.
So the Browns are coming to town. They too have a new QB at the helm, albeit a much better one than Chad Henne (at least at this point in their respective careers). Additionally they just traded WR Braylon Edwards, arguably their best playmaker (at least on paper) to the N.Y. Jets. Their starting RB Jamal Lewis is likely to miss this game due to injury, and it will likely be the James Harrison show for the Browns on Sunday. For the 2nd week in a row the Bills are matched up against a team they "should" beat.
The Bills got healthier in the past week, and likely smarter as well. They will have LT Demetrius Bell back in the lineup which moves OT Jonathan Scott back to RT and puts OT Kirk Chambers back on the bench where he belongs.  Furthermore, Fewell has finally decided to put an end to the Marcus Buggs experiment relegating him to the bench, for now. LB Kawika Mitchell will be starting in his place at MLB, and undrafted FA LB Ashlee Palmer will be starting at WLB in place of Mitchell.
The Bills are primarily making this change in response to the horrendous run defense on display the last 2 weeks. They gave up 222 yards and 250 yards on the ground the last two weeks, respectively. Mitchell is 253 lbs, and much more stout at the point of attack which will help shore up the middle of the field. However, he is not as smooth in pass defense where he is likely to be a liability, especially when they run the Tampa-2 base defense. While Palmer has no starting experience, he is no slouch. He has been one of the more impressive rookies in training camp this year and is somewhat of a dark-horse candidate to be solid as a starter. Safeties Bryan Scott and Donte Whitner are again going to miss the game this week, along with Chris Ellis who will miss the game for personal reasons. LT Demetrius Bell, FS Jairus Byrd, and DT John McCargo are listed as probable. For the Browns, LB D'Qwell Jackson and K Phil Dawson are likely out. Limited in practice were RB Jamal Lewis, NT Shaun Rogers, LBs Kamerion Wimbley and David Bowens.
If I were coaching the Bills, this is what I would do:
Run that Rock
Cleveland is 31st in the NFL against the Run, giving up a whopping 176.8 yds/g with a 5.4 yds/a. So naturally it would be wise to unleash one of the best 1-2 tandems in the NFL in Lynch and Jackson. Besides, Trent Edwards has looked shaky the last two weeks and the offensive line is still getting their feet wet in terms of pass blocking for him. There is no better way to get the confidence back for a young QB than to impose the running game on the opponent. With Bell and Scott back to their respective positions, and all the injuries to the Browns linebacking-core, the Bills should have success pounding the ball against Cleveland. RB Marshawn Lynch has 201 yards rushing and 58 yards receiving in 2 career games against the Browns – Last year he had 119 rushing and 58 receiving. The Browns are even worse against the run this year than last year. On paper, this is a cupcake matchup for the Bills dynamic duo.
Blitz Anderson

Derek Anderson loves going deep, surely a lot more than Brady Quinn does. Braylon Edwards has been shipped off which means rookie WR Mohamed Massaquoi will be the main receiving option and the Bills should have success if they put some pressure on Anderson and blanket Massaquoi who is not nearly as polished as Edwards (at least not yet). Lets see how the rookie adjusts to being the #1 guy with no legitimate threat on the opposite side of the field.
Contain Cribbs
 Like the Bills, the Browns have predominantly been relevant the past few years because of their special-teams prowess. WR/KR Joshua Cribbs is arguably one of the best in the NFL and if the Bills are to avoid an upset they have to bottle him up in the return game. Of course this is easier said than done, but the Bills have an excellent Special Teams coach in Bobby April (maybe the best in the NFL) and his #1 priority this week is to avoid any big plays by Cribbs.
Don't forget about Harrison
With Lewis likely to miss the game, or at least play sparingly, RB Jerome Harrison will again start for the Browns. Harrison had 121 rushing yards last week against the Bengals; 101 total yards and 1 TD against the Bills last year. So he's certainly capable of carrying the load and the Bills would be foolish to dismiss him. Given the lack of rush defenses on both sides, don't be surprised if this game is run-heavy and hopefully the new linebacker lineup will help them be stout in the middle and limit Harrison.
Stay aggressive for 60 minutes
Two weeks ago I put brought up this issue while discussing the Saints game, and here I am today bringing it up again. Until the Bills actually do this, I will keep bringing it up every week. This team is terrible at finishing off their opponents, especially those that they are supposed to beat. As soon as they get a lead they start calling dive plays on offense and prevent on defense. Until that conservative philosophy changes, this team will not make the playoffs. I'm not saying they should be calling play-action passes from their own endzone with a 10pt lead in the 4th quarter, but they need to keep the play-calling unpredictable and aggressive for the entire 60 minutes or else they are very easy to beat.
Conclusion
All in all, the good teams win the games they are supposed to and this is a game the Bills should win. If they don't, the Dick Jauron era will be that much closer to an end. If they win, Jauron will likely get a few more weeks to save his job. While Mr. Ralph Wilson is not a big fan of making in-season moves, losing to winless teams in back-to-back weeks should be enough to test his patience (hopefully). I like Dick Jauron; I don't agree with his play-calling in certain situations of the game but his players absolutely swear by him so I'd love nothing more than to see him succeed and with the Bills. However, there comes a point in every organization when all it really needs to be competitive is an important change (usually at the QB position or head coach). This is the definition of a "must win" game for the Bills. You can be assured that the players know that and will show up to play this Sunday.
Prediction: Bills 23 Browns 17