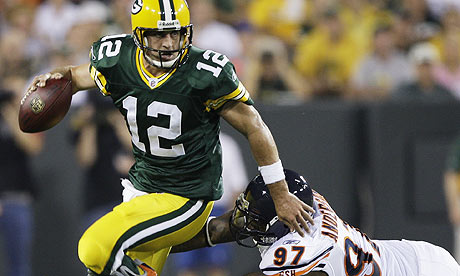 By PFC Packers Writer Jonathon Zenk
In Jay Cutler's debut as the starting quarterback of the Chicago Bears, the defense of the Green Bay Packers took center stage. Cutler was intercepted a career-high four times and Aaron Rodgers connected with Greg Jennings on a 50-yard touchdown to give the Packers a 21-15 victory Sunday night at Lambeau Field.
               
The Packers came in with a high-powered offense with Rodgers at quarterback, running back Ryan Grant, and an outstanding group of wide receivers, led by Jennings and Donald Driver. However, the Bears defense shut the high-powered offense down, as the Packers only scored two touchdowns with one of them being a three-yard run by Grant after one of Cutler's interceptions was returned down to the three. But the Bears offense did much worse than the Packers. Chicago's star running back Matt Forte was shut down, rushing for less than three yards per carry. That, along with the four turnovers, were the differences in the game.
               
Also in the game, the referees made numerous terrible calls. No call was worse than the illegal contact on Al Harris on the Bears' last field goal drive. First off, on replays, Devin Hester lined up illegally, and then when running down the field, Harris lightly pushed Hester four yards down the field, within the five yard limit. The Bears went onto kick a field goal to give the Bears a 15-13 lead. If Rodgers hadn't connected with Jennings on the game-winning touchdown and Green Bay would have lost, this would have been a major controversy this week.
  
This week, the Packers welcome the Cincinnati Bengals to Lambeau Field. The Bengals are coming off of an improbable 12-7 loss to the Denver Broncos in which Denver's Brandon Stokely caught a tipped pass and raced 87 yards to give Denver the lead with 11 seconds left.