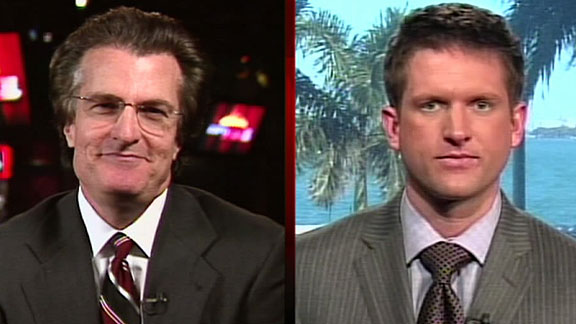 Heading into the past weekends NFL Draft, almost every single fan looked at the "draft experts" and there "mock drafts" like they were the bible. Unfortunately, this is the case every single year where the fans rely on "draft guru's" but every single year are disappointed when they realize, that the mocks that they read on a regular basis, do not regulate into reality.Lets look into the top draft experts and see how they did in this years draft with there predictions. I am taking out the Stafford pick because that was announced several days before the draft and I am giving them credit for the Bucs drafting Josh Freeman even tho it was a few picks ahead of time.
Mike Mayock NFL Network- 9-31
Charles Davis-3-31
Mel Kiper– 8-31
National Football Post– 8-31
Michael Lombardi-CBS Sports 1-31
Don Banks SI.com: 6-31
Scott Wright DraftCountdown- 7-31
Shawn Zobel Draft Headquarters: 10-31
Todd McShay ESPN.com 5-31
Peter King Si.com 6-31
Nolan Nawrocki-Pro Football Weekly- 13-31
Jason Horton Football.com- 5-31
Chris Steuber Scout.com- 2/31
Matt Bitonti– DraftDaddy.com- 4/31
We can go for days on why no expert could get more than 14 picks which is not even a C grade if you were to grade it. The reason this is so appalling is because some of these reporters such as Mel Kiper do this 365 days a year and this is there full income and believe me ESPN must pay him really well so why are they accepting a 8-32 score? In this economy, if you were paid to prepare for 11 plus months to call all your sources and connections to accurately predict a mock draft and to put it on national TV then you should do alot better than 8-31 which would be a F score if this was graded.
Websites such as DraftCountdown, DraftDaddy, Scout.com and DraftHeadquarters.com, really do need to be applauded because they do not follow the draft as much as Kiper, Mayock and McShay and none of them come even close to the yearly salary that these national TV experts make so how can someone like Shawn Zobel get 4 picks more than Todd McShay? It's not like ESPN or NFL.com cannot do whatever they can to "confidentially" have there sources tell them who they really are interested in but maybe they will when they realize that there jobs are on the line.