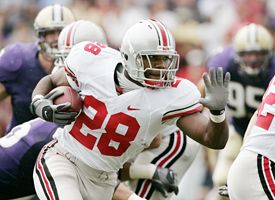 By PFC Cardinals Writer Kelley Smelser
I lobbied pretty hard for Beanie Wells, Edge was maybe the best in history at what he does well and many Card fans undervalue those abilities. What Edge is the best at Wells lacks: reading, calling the protection, blocking and providing the out-let. The players including Kurt Warner, the front office and the coaches knew Edges value to this team and the Cardinals will be lesser without Edge. I wish fans could have seen a fair battle for the start in training camp and the preseason. The problems run deeper than 5 million $ salary cap hit.
Ask KW which running back He wants in there when he passes 65% of the time? Tim Hightower, Wright? Wells, of course not Edge was the man and will out perform any back in the NFL at these vital reads. (remember the I'm not an offensive lineman comment last year?) Tony Dungy said Edge is the smartest player He ever coached! That includes some incredible Hall Of Famers! Edge may not like being taken away from his focus on all time records but Edge proved He is professional! He was a mentor for TH and could have been for Beanie even as a hostage to his 25 million He's already paid!
8.33 million each year for 3 years, The Cardinals threw away the value at the end of the contract. Farewell Edge hope you the best of all worlds.
Russ Grimm is a force in the background, He gets what he wants from Ken Whisenhunt with Levi Brown and Beanie Wells and it has worked out well for the Cardinals. Go back to Bettis and further to Riggins and understand the loyalty and the production in this system. My point is With Grimm as the first run game coordinator in NFL history. The battle for snaps is not RB to RB or WR to WR or QB to QB but between a top running game in the NFL and a top Passing game in the NFL!
Follow me on this one; The oline is solid and will peak as a unit this year. Who is going to earn the ball in training camp and preseason amongst the highly talented corps of offensive skilled players, Grade them out 1st and 2nd string against history! I have never seen a better training camp ever than in Flagstaff this year. Poor Whiz will need to balance the egos like Haley did Q at the NFC Championship final minutes.
Matt Leinart wants to beat out KW in Camp more than life itself yet, Whiz loves St Pierre and Whiz promised Brian a shot at 2nd string. Anquan Boldin and Larry Fitzgerald must hold off Steve Breaston, Urban, and Early Douchet. Chris Wells will leave TH starving for carries. This is dynamic and underrated on sports center but you'll hear it here! They took Edge out of this picture and the Cardinals are less as a whole! Tight end starter is wide open to the best baller wins.
The defense is a whole different story but it should prove interesting!
What a wonderful year to be a Cardinal Fan!