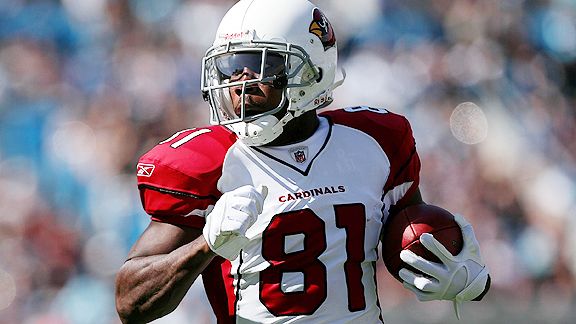 By PFC Cardinals Writer Kelley Smelser
33.4 million over 6 years equals over 5.5 million a year with a 10 million dollar signing bonus. Aquan Boldin earns this on his current contract. He has received over 28 million already in 4 years and has refused several contract offers over 8 million a year. Q is not pleasable for less than 10 million a year and excusing what he has already been paid by the Arizona Cardinals. He wants 10 million a year for the next 4 years period. The Cards will be tied up at all other positions if they please Q.
Q and Drew know it may be worth it! They refused a great contract extension offer a couple times, waiting for Larry Fitzgerald to be signed and at least one since. These offers were not detailed but were reported to make Boldin one of the top paid wide receivers in the NFL. Fitz was signed and Drew and Q went for the throat of the Cardinals front office with 3 years left on the current contract. complaining about the amount of guaranteed money in the offers. I am not buying it, the Cards have paid well since the stadium opened and before. If Q can't be happy He can't be happy. With 3 pro bowls in 6 years is not worth more to others, it's that the Cards are loaded at WR, and Q and Drew are being unreasonable.
If Kurt gives him a million like he said and Fitz gave a million It still wouldn't be enough money! Q wants to be a #1 WR on another team it's not all about the money. Anquan still has the opportunity to secure endorsements for life as an Arizona Icon and cement his legacy in the 4th largest metropolitan area in the US . Boldin has lost the sense of we do this together, every since fans started dogging on Edge after Q stuck his neck out and lobbied for Mr. James.
I have no doubt Q is number 1 WR on most teams. A speedster to compliment Q and any team has a better than average pass game. The first year in AZ Bryant Johnson was the speedster and well the QB was Jeff Blake wasn't it? Q has chosen to give up his status of the heart and soul of the Arizona Cardinals. He desires to be in Florida for many reasons.
I hope Q and Drew explain exactly why the grass is greener elsewhere in another city on another team? Q has no better chance at a better system, talent, and sense of history or the hall of fame than Arizona . The money offered is not bad either, a Hall Of Fame QB, RB, WR on the field in your offense grows on trees happens every lifetime or so.
The argument has always been with "management" not with the people on the field, except maybe accusing Coach Whizenhunt of meddling with contract negotiations or blowing up on Offensive Coordinator Todd Haley as we closed out the NFC championship win. Leaving the locker room early without celebrating this win together, puts management on the spot. Q has earned the respect and right to do as he wants at the end of his contract with Arizona ,
But Q is not acting like a grown ass man off the field.
There has been an on going feud Q or no Q with agent Drew Rosenhaus, Hell they made a movie about it! "See Jerry Maguire for more details" but the management or it's philosophy was not featured in that movie. maybe a sequel, Little Billy Bidwill won't move, can't push Billy around Billy won't budge. Not just because it's bad for the Arizona Cardinals but Bill Bidwill will protect the NFL as a whole like he has for generations. Put it in the bank Drew you will lose again. Bill has already survived these burdens that have smushed lesser men, teams and leagues, it's in the bank for better or worst.