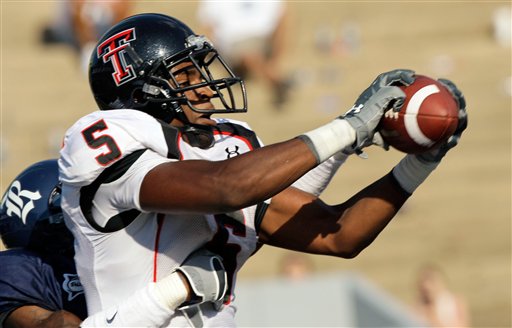 By PFC Writer Bill Smith
Overview of the Offensive 2009 Draft Class
We will overview the Defensive class by position next week.
Quarterback
Scouts went from depressed looking at the 09 senior class to elated and excited due to the possible juniors that might come out to depressed again when three of the top candidates did not declare for the draft.
The class does not have the kind of super upside candidates that have headed up the last couple of drafts but it is not as bad as the scouts think.  Despite my somewhat negative judgment on Matt Stafford (Georgia) , he should become a serviceable QB.  Marc Sanchez (USC) is a major question mark—why did he sit behind the VERY average John David Booty (5th round pick by Minnesota 08)?
sleeper to watch—Rhett Bomar Sam Houston State (ex-Oklahoma)
Running backs
This group is m u c h   s  l  o  w  e  r  than previous years.  Guys that were supposed to be very fast like Knowshon Moreno (Georgia) and Chris Wells (Ohio State) have turned out to be slower than expected.  Moreno worries me.  He runs best up the gut but doesn't have the body to survive that at the NFL level.  Wells has it all but top speed and a healthy history.  Buyer beware.
sleeper to watch—Glen Coffee Alabama
Wide Receivers
Scouts are raving about this crop.  That is only because next to the past 3 years, this group looks unbelievable.  It is—unbelievable that is.  Although the group looks good, there are question marks everywhere.  In my opinion this group is the most over hyped part of the draft.  Michael Crabtree (TT) is the real deal as a receiver with good technique, ability to read the coverage and adjust.  But I am not sure he is as fast as most think.  Because of the injury, he as not been able to be timed.  Percy Harvin (Florida) is ranked 2nd or 3rd but doesn't run good patterns and is a man without a true position.  It is hard to use a first round draft choice on player that will not be one the field full time.
sleeper to watch—Louis Murphy Florida
Tight Ends
This group is much deeper than in previous years but there are a lot of questions about the group.  Most of the TE coming out of spread offenses are not in line blockers but deep threats with the ability to threaten the D down the middle.  Brandon Pettigrew (Oklahoma State) is the best combo TE bringing fair blocking and good hands.  But he is undisciplined in his routes.  You would expect Travis Beckum (Wisconsin) to be a blocker coming out of a run first program, but he lacks both technique and the heft to hold the point of attack on the run.
sleeper to watch—Chase Coffman Missouri
Tackles
As good as last year's crop was (8 OT's drafted in the first round), this years group has the potential to be deeper and better at the top.  The top 3 include in no particular order Jason Smith (Baylor), Eugene Monroe (Virginia) and former top potential pick Andre (I won't participate in the combine) Smith (Alabama).  Monroe is the best technician, Jason Smith is the toughest on the run and Andre Smith has the most potential of the three IF he has his head on straight and doesn't eat his way out of the league.  In all, expect at least 5 and up to 8 OT prospects to be taken in the first round.
Guards/Centers

It is unusual for either of these two categories to include a first round talent.  This year there should be more quality and depth here than usual.  There are over 40 draft able players in this group. My top grades go to Duke Robinson (G Oklahoma) and Antoine Caldwell (C Alabama).
sleeper to watch—Jonathan Luigs C Arkansas
That's what I think.  Tell me what you think.
Bill Smith is a former coach of several semi-pro teams, has officiated both football and basketball, done color on radio for college football and basketball and has scouted talent.  He is a senior writer for http://NFLDraftDog.com  and edits http://fryingpansports.com.  He has also published several novels on http://www.eBooks-Library/Contemporary/Author.cfm?AuthorID=1003 and edits  http://fryingpanpolitics.blog.com.
My email is wesmith2001@hotmail.com.